VisionProject is intensively used as a Help Desk system for a lot of organizations. You set it up with different projects acting as different support divisions. To then be able to communicate efficiently with the customers, you can have them entering the Support Center. The support center/helpdesk module works as a portal for all your customers and end users.
Overview
The Support Center allows you to manage your support emails and issues originating from a phone call in a simple and efficient manner. Included in the support center is also a discussion forum, document archive and a flexible Knowledge base. The entire system has been designed to improve productivity and to make it easy for you to give your customers and end users support 24/7.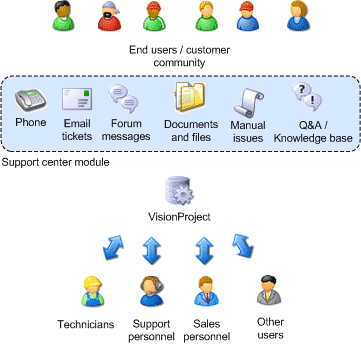 Automate your support email management
The most common way to manage support issues is through regular emails. As you can see in the diagram below, by using the VisionProject Support Center this is very easy. All you have to do is to configure the Support Center to fetch emails from you support mailbox using either IMAP or POP3. Issues are then fetched and converted into support issues to VisionProject every other minute. If emails concern already created issues, the email is converted to a comment to the issue and the attachments are added.