Systems that support the work in your business need to be as easy as possible to use, to be as efficient as possible. That is one of the focuses that developers of VisionProject have had from the beginning.

VisionProject has, among many other things, a superior "tab-based" user interface and a quick context menu with edit ability. This minimize the time you work with VisionProject and you will have time to get real work done!
Dashboard
The Dashboard is the first you see when logging into VisionProject. This is a customizable layout of portlets, which are smaller panels that can contain many things: Issues that are assigned to you, recent activity for projects that you are a member of, upcoming versions, search results, statistics graphs and so on.
A classic dashboard: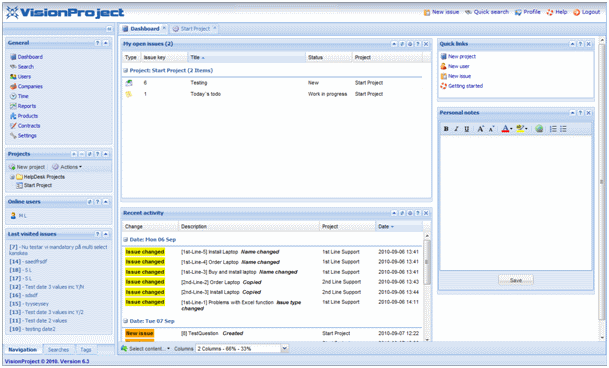 This dashboard is full of portlets:
Tabs
VisionProject's tab-based interface enables you to have many projects, issues, searches, users, companies, tag-views, etc, open at the same time. A huge timesaver compared to the "old", "one page at a time", web application!
Left-side panel
To the left is a panel that contains shortcuts to general functions, such as: Search, Users, Companies, Time management, Reports, Products, Contracts and Settings. The panel also contains links to the projects you are part of, a list of online users and a list of your latest visited issues. This panel also includes tabs on the bottom, with possibilities to list issues connected to Tags or predefined searches.


Context help
There is a context help in VisionProject. Just click on the question mark icon in a page, on a panel or portlet and you will find the relevant help about that section.